---
Oldest Surry Resident
---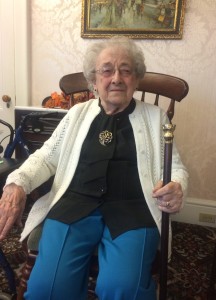 Ruth Frink, Surry's Senior, Senior Citizen
Ruth was a twin born February 20, 1921 in the town of Marlow   She married Calvin Frink on March 25, 1944, while he was serving in the Army from 1942 to 1946.  So Ruth lived through the great Depression, no doubt learning the true meaning of hardship, and was a bride during World War 2, learning to live with separation and concern.  She is a member of what retired NBC Newsman Tom Brokaw has called the Greatest Generation.  The couple wisely chose Surry to build their home, and purchased the 12A land on which they built February 19, 1948.
I suspect Ruth would prefer to be known as Cal's wife, Laura's mother, and Jay and Luke's grandmother.  Accordingly, she was active in the Surry Parents Club, 4-H, and was a charter member of the Surry Fire Department Ladies  Auxiliary.
As is easy to do in a small town, she quietly followed Cal into public service.  Ruth served as ballot inspector, 10 years as checklist supervisor and 6 years as tax collector.  She was active with Cheshire County Republican women, actively participated in First Baptist Church of Keene, and volunteered for over 30 years at Cheshire Medical Center.
There is an old saying that seems to trace to the Bible book of Proverbs chapter 31 verses 10-28 that a good woman is behind every successful man.  Cal Frink was very successful, at least as a businessman, in the fire service, and in service to the town of Surry, whose last license plate number was SURRY.  Though it may seem quaint now, it's hard to question Ruth's priorities.
It is with great pleasure that we, the Selectmen of the town of Surry,  honor Ruth Frink as Surry's senior, senior citizen by presenting you with the Boston Post Cane.