---
---
Surry NH Town Events & Notices
---
---
 The Town Clerks office is open during their regular business hours for all auto registrations and Clerk business.
 The Reed Free Library in Surry will be closed until further  notice due to the current health issues. All other Town business will continue as normal until further notice.
---
THE SELECTMEN  HAVE DECLARED THAT DUE TO
THE STATE OF EMERGENCY RELATED TO
THE COVID -19 THEY WILL MEET ON
MONDAY EVENINGS FROM 7:00 P.M. –
7:30 P.M. AND BY APPOINTMENT, MONDAY'S 7:00 –
9:00 P.M. UNTIL FURTHER NOTICE.
PLEASE EMAIL @ selectmen.surry.nh.gov
TO SET UP APPOINTMENTS.
---
Notice of Joint Public Hearing Continued
Town of Surry, NH
Board of Adjustment
Planning Board
Notice is herby given that according with RSA 674:2, 676:4, 675:7 and 676:7 the Surry Board of Adjustment and the Surry Planning Board will hold a joint public hearing on Wednesday, March 25, 2020 at 7:00 p.m. at the Surry Town Hall, 1 Village Road, Surry, NH to consider a variance from Surry Zoning Ordinance Article V, Land Space Requirements Table, as to required frontage on a Class V road, and a proposed 2 Lot Subdivision of land of Arlie MacKenzie, Mark MacKenzie and David J. and Kim I. Bergeron.  The property is located on Wilber Road and is known as Tax Map 5B Lots 76 and 78B.
Should a decision not be reached at the Public Hearing, this application will stay on the Planning Board Agenda until such time as it is either approved or denied.
John Croteau, III
Chairman
Surry Board of Adjustment
Laura Barrett
Secretary
Surry Planning Board
 This joint hearing has been continued to June 24, 2020 at 7:00 p.m. at the Surry Town Hall.
---
Town Meeting information and Town Report now available:
You are hereby notified to meet at the Town Hall in Surry on Tuesday, the 10th of March, 2020 from 2:00 p.m. to 7:00 p.m.  In addition, you are hereby notified to meet at the Town Hall in Surry on Thursday, the 12th of March, 2020 for the business meeting at 7:30 p.m.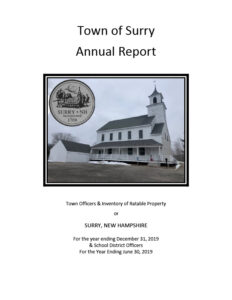 ---
---
THE TOWN CLERK'S OFFICE IS NOW ONLINE WITH THE STA
TE 
THIS MEANS THAT DMV TRANSACTIONS CAN NOW BE HANDLED WITH ONE STOP AT THE TOWN HALL
the Clerk's office can now issue plates and stickers, no need to go to Keene.  Please stop in and try it out if your car is up for renewal.
---
Attention, Attention,  Clerk Hours
The Town clerk has changed the hours they are open.  The new hours are now:
Monday, 3pm – 6pm
Thursday, 5pm – 7pm
---
Send an email to surryrecreationcommittee@gmail.com to be added to the Town email list for Activities, important town updates, etc.
---
SELECTMEN MEETING – Surry Town Hall – 352-3075    E-mail: Selectmen@surry.nh.gov
Meet every Monday – 7:00pm (except some Holidays)
Closed the fifth Monday of the month.
TOWN CLERK – Surry Town Hall – 352-3075  E-Mail: Townclerk@surry.nh.gov
Mondays 3pm-6pm
Thursdays 5pm-7pm
Closed State and Federal Holidays
TAX COLLECTOR – Surry Town Hall – 352-3075
First and Third Thursdays 5:30pm to 7:00pm
SURRY SCHOOL BOARD MEETING – Surry School
Third Monday of each month, @ 7:00pm
CONSERVATION COMMISSION – Surry Town Hall
First Monday of each month @ 7:00pm
PLANNING BOARD MEETING – Surry Town Hall
Fourth Wednesday of each month @ 7:00pm
ZONING BOARD OF ADJUSTMENT – Surry Town Hall
Meet as needed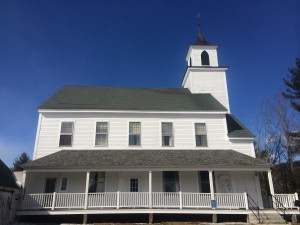 Surry Town Hall
1 Village Road
Surry, NH  03431