---
Surry Recreation Committee
&
Old Home Day
---
The next Recreation Committee/250th Celebration Planning Meeting will be Thursday, April 4th at 6:30 p.m. at the Reed Free Library.  Your ideas and participation are welcome!
Festivities for Surry's 250th Celebration/Old Home Day will be held August 9 – 11 and 16 & 17, 2019.
TOWN OF SURRY 250TH CELEBRATION
August 9, 10, 11, 16 & 17, 2019
Schedule of Events *
(Subject to change.  More details will be added as the dates near, so check back often.)
FRIDAY, AUGUST 9th

4:00 – 8:00 p.m.

Tethered Hot Air Balloon Rides in the field behind the church. ($3.50 per person)

6:00 – 8:00 p.m.

Ice Cream Social under the tent (donations accepted).

Inflatable games and activities.

SATURDAY, AUGUST 10th

9:15 a.m.

Line up at the Charter School parking lot for the Parade — walkers, strollers, wagons, bikes, antique cars or tractors welcome to participate.

9:30 – 9:45 a.m.

Parade to Downtown

9:45 a.m.

Opening Ceremonies

Recognition & Announcements

10:00 – 1:00 p.m.

ongoing

Cemetery Tours

History Walk

Art & Craft Show in the Town Hall

Inflatable Games & Activities

Surry Kids Olympics

Raffles

Activities at the Library

11:00 a.m.

Cake Walk

Bring a cake to participate.

11:30 a.m.

Cookie Bake-Off

Bring a dozen cookies to participate.  Cookies will be the dessert for the Chicken BBQ.

12:00 p.m.

Tree Planting for the 250th

12:15 p.m.

Chicken BBQ by the Surry Volunteer Fire Department

Advance purchase of tickets recommended.

1:00 p.m.

Announcement of Art & Craft Show Winners

Announcement of Winner of Hooked Wool Wall Hanging

1:15 p.m.

Card Bingo under the tent.  Bring a non-perishable, non-expired canned or boxed food item to participate.  Items will be donated to the Keene Community Kitchen and the Fall Mountain Food Shelf.

SUNDAY, AUGUST 11th

8:30 a.m.

Pancake Breakfast at Surry Village Charter School.

10:30 a.m.

Church Service at Beth-El Bible Church

12:00 p.m.

Town Potluck under the tent.  Each family should bring a dish and dessert to share.  Beverages provided.

Chili Cook-Off

Pepper Eating Contest

Pie eating contest for kids age 12 and under.

12:30 p.m.

Largest zucchini contest — bring your biggest zucchini!

2:00 p.m.

Hike in the Graf Town Forest sponsored by the Surry Conservation Committee.

FRIDAY, AUGUST 16th

7:00 p.m.

Tom Foolery Band with catering by JimEddie's and brews by Branch & Blade.  $3 cover charge. Bring ID. Food & drink purchases will be made directly from the vendors.

SATURDAY, AUGUST 17th

4:45 p.m.

Meet at the Town Hall for the bus to the Festival of Fireworks in Jaffrey.  Bus leaves at 5:00 p.m.

$3.50 per person for seat on the bus.

Food vendors will at the event, but you may bring your own food/snacks and non-alcoholic drinks.

Bring a blanket or lawn chairs.

NO alcohol is permitted on the bus or at the event.

Return time approx. 11 p.m.
Go to www.SignUpGenius.com to reserve event spots, purchase a t-shirt or Commemorative Mug, sign up for the Arts & Crafts Show and more.
Surry Old Home Day t-shirts are for sale!  Choose from red, blue or green in various sizes.
 S
end an email or contact a Rec Committee member to purchase your shirt(s) or if you have questions about Old Home Day and/or the 250th Celebration.
surryrecreationcommittee@gmail.com
Kim Fisher 357-5210
Melissa Crotto-Young 410-7698
Karen Whittemore
————————————————————————————-

Old Home Day is held in odd years on the 3rd 

Saturday

 of August.
---
---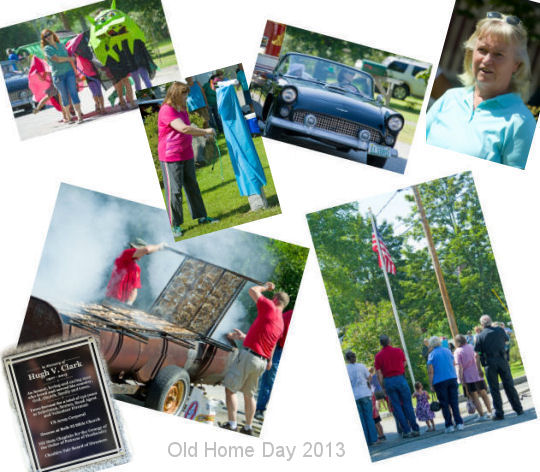 The Surry Recreation Committee is in charge of the activities and we welcome your participation and suggestions for activities.
Please email or call one of the Rec. Committee members.
Surry Recreation Committee
Kim Fisher                        surryrecreationcommittee@gmail.com          357-5210
Melissa Crotto -Young    surryrecreationcommittee@gmail.com         410-7698
Karen Whittemore          surryrecreationcommittee@gmail.com