---
 Be Prepared for Emergency Situations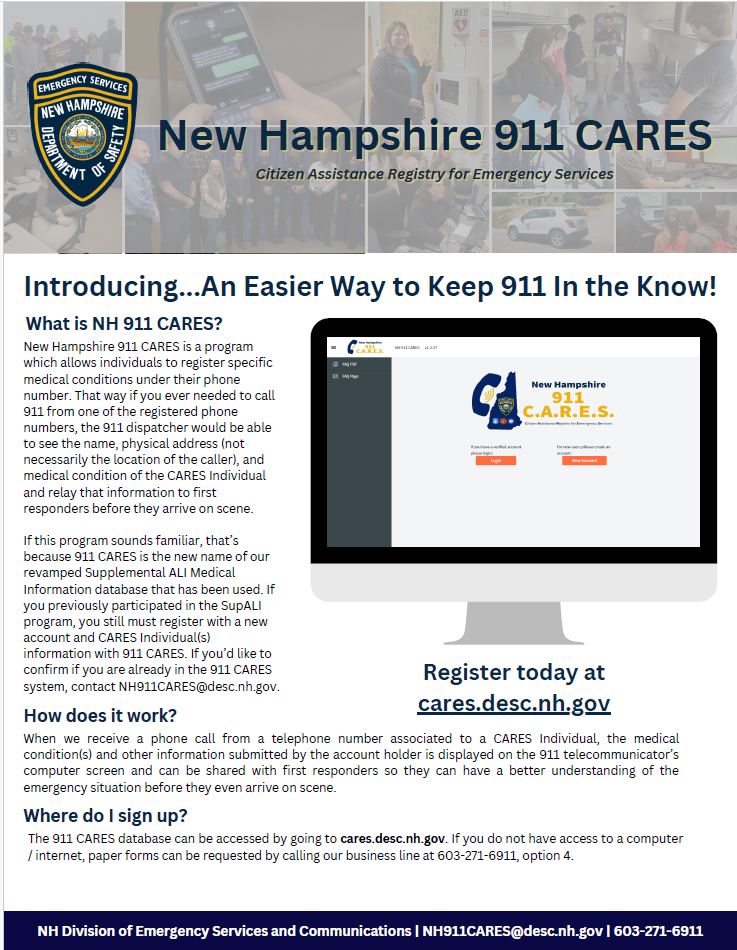 The Division of Emergency Services and Communication (DESC) is excited to announce the full launch of the new online NH 911 CARES (Citizen Assistance Registry for Emergency Services) program, previously known as Supplemental ALI.   NH 911 CARES provides additional information to an emergency 911 dispatcher at the time of a 911 call.
NH 911 CARES is a service that has been in use for over 10 years, and the additional medical information in the CARES database has been used in countless 911 calls, assisting dispatchers by providing important information that a caller may not be able to provide them verbally. The information that is registered on the website is medical in nature thus protected by the NH 911 Division and only used for emergency services at the time of a 911 call.  NH 911 is always dedicated to providing the best emergency care in the shortest amount of time, and the NH 911 CARES program is another aspect of that mission. The attached NH911 CARES FAQ Handout provides additional details about the program as well as the list of medical conditions that meet the criteria for inclusion.
NH Residents with special medical conditions can register to be included in the NH 911 CARES Program anytime, anywhere using the new NH CARES Website. To register yourself or someone else simply log into https://cares.desc.nh.gov to set up a new account.
If you have questions or require assistance, please call 603-271-6911 or email us at NH911CARES@desc.nh.gov.
---
---
The Surry Hazard Mitigation Plan has been adopted and will be in effect for the next 5 years.  Part of this plan was to provide guidance on what to do to prepare for a natural disaster in our community.  You are encouraged to view this link to be familiar with the recommendations. 

https://www.ready.gov/