---
Surry New Hampshire History Books
---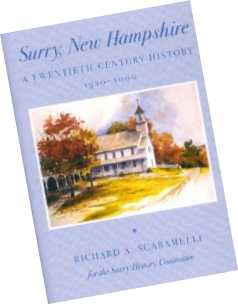 A TWENTIETH-CENTURY HISTORY – SURRY, NEW HAMPSHIRE
1920-2000
By Richard A. Scaramelli for the Surry History Committee This book shows how tiny Surry adapted to the profound changes of the twentieth-century, from electricity to e-mail, from TB Tine tests to cell phone towers to emerge a vibrant community set amidst a unique natural splendor. 
History books can be purchased at:
*     The Surry Town Hall
*     Toadstool Book Shop, Keene
*     Bruce Smith, 603-352-4572
Hard cover ………………………….  $20.00
Paperback Pictorial  …………..  $10.00
Maps ……………………………………..  $5.00
---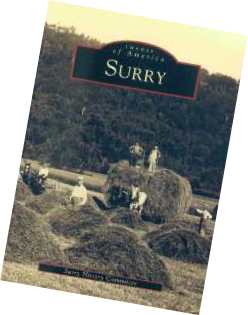 Images of America – Surry
A pictorial history of Surry, NH by the Surry History Committee
Published by Acadia Publishing, 2001During the years the committee spent researching Surry's past, they collected hundreds of photographs. Richard Scaramelli, who was hired to write the town history, realized what a "beautiful, photographic town" Surry was and suggested that a pictorial history be published first. This is the result of the that suggestion.
---
Surry NH Town Maps

We have three Surry Maps available at $3 each.
Two are copies of old maps and one is a new one in color.
Both histories, the pictorial and the twentieth-century along with the Surry maps are now for sale from the town clerk's office and the Reed Free Library.
Pictorial $10
History $20
Maps $3
Please note the Surry History Committee is not a genealogy organization and the only genealogy they have is in the book.
---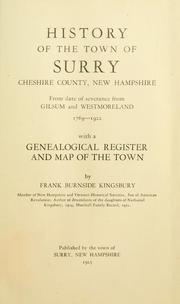 History of the Town of Surry, Cheshire County, New Hampshire
From Date of Severance from Gilsum and Westmoreland 1769 – 1922 with a Genealogical Register and Map of the TownAuthor: Kingsbury, Frank Burnside
Originally Published in 1925
Total number of pages = 1080 Read online or get a free download in these formats:
PDF


Black & White PDF


EPUB
Kindle
Daisy
Full Text
DjVu
---
If you are interested in a paperback copy of the history you may purchase it here.
---
Looking for gravesite or genealogical information?  Most of the graves in Surry, listed in the 2 town histories, have been entered on Find A Grave.  Go to www.findagrave.com and click "Cemeteries", then search by location "Surry, Cheshire County, New Hampshire".